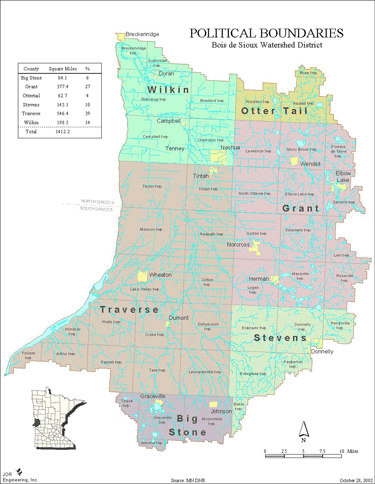 About the District
The Bois de Sioux Watershed District (District) was established on May 11, 1988, by order of the Minnesota Board of Water and Soil Resources (BWSR) under the provisions of the Minnesota Statutes (MS), Chapter 103D, otherwise referred to as the Minnesota Watershed Act. The District is located in west central Minnesota and includes the entire drainage basin, in Minnesota, of the Bois de Sioux River. The counties included in this area are Traverse, Grant, Wilkin, Stevens, Big Stone and Otter Tail.  Cities within the District are Breckenridge, Doran, Campbell, Wendell, Elbow Lake, Norcross, Herman, Donnelly, Graceville, Dumont, Johnson, Wheaton and Tintah.
read more
Recent Happenings!
Find out more information about our recent projects!
Grant money received!

The BDSWD proudly thanks the Clean Water Fund for the grant opportunites to fund the Redpath Impoundment.
For more information, click here.
Calendar of Events
1. August 17, 2017
Notice of Public Hearing relating to Wilkin County Ditch No. 8.
Click here
for more information.
2. August 17, 2017
Our board meets monthly on the third Thursday of each month. To view our upcoming agenda and minutes from our previous meeting,
click here
.
3. August 15, 2017
The RRWMB meets monthly on the third Tuesday of each month. To view information for their next meeting and the minutes from their previous meeting,
click here.
read more