Details about our Ditches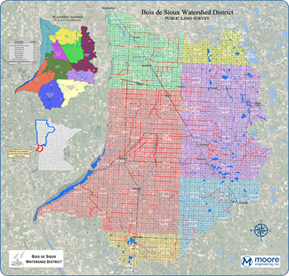 The Bois de Sioux Watershed District serves as a ditch authority for drainage systems in Grant, Wilkin, and Traverse Counties. Modernized drainage systems are important for our topography, storing and controlling the flow of excess water.
In addition to permitting activities within drainage systems, the Bois de Sioux Watershed District maintains a three year schedule for inspection of the drainage systems under the District's authority.
Maintenance may be identified during and ordered after an inspection, or requests may be brought from landowners. Maintenance activities are considered on a case-by-case basis, and includes consideration of ditch fund balances.
Repairs and improvements may be initiated by landowners. Please contact our office if you are interested in inititiating these proceedings.
Bois de Sioux & Mustinka Watersheds: Entering a 7th Year of Aggressive Water Quality Improvement Projects
Landowners and agricultural producers are working voluntarily to reduce sediment in the Bois de Sioux and Mustinka Watersheds in West Central Minnesota. Over the past decade, projects on farmland and throughout small drainage areas have helped to reduce erosion, reduce flooding, and improve water quality. These projects require several years to plan and design, and are a collaborative effort: landowners, counties, SWCD's, and the Bois de Sioux Watershed all play important, integral roles.
2021: The Repair of Judicial Ditch #6
Judicial Ditch #6 is located North and South of State Highway 55, just east of the former City of Tenney. Although a cleanout was attempted in 2016, the resulting side slopes along the road were found to be 1:5 - 2:1. The side slopes were found to be steeper than other typical ditch systems for the region and do experience some sloughing. The repair consisted of excavating the bottom ditch channel, to the repair grade and construction of 3:1 side slopes. The excavated material was used to construct earthen berms adjacent to the ditch and side inlet culverts were installed to allow the adjacent fields to drain into the ditch systems. These best management practices allow runoff from the field to slow before entering the ditch system, and will allow some sediment to settle in the field (as opposed to within the ditch).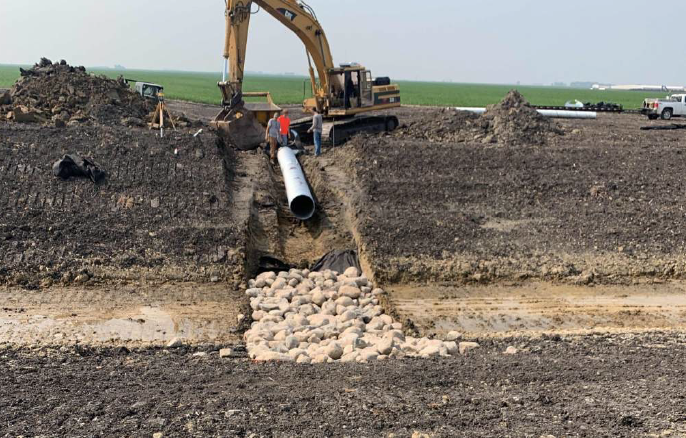 2020: The Improvement of Judicial Ditch #11
Judicial Ditch #11 is located alongside State Highways 75 and 55. Construction for the repair of Judicial Ditch #11 began Spring 2020. Approximately 60 side inlet structures will be installed, along with 9 miles of continuous berm.
Anticipated water quality impacts to the Bois de Sioux River: sediment load reduction of 420 tons per year, and phosphorous load reduction of 117 pounds per year.
In response to the anticipated water quality benefits that this project will provide, the Board of Soil and Water Resources provided a $327,00 Clean Water Multi-Purpose Management Grant.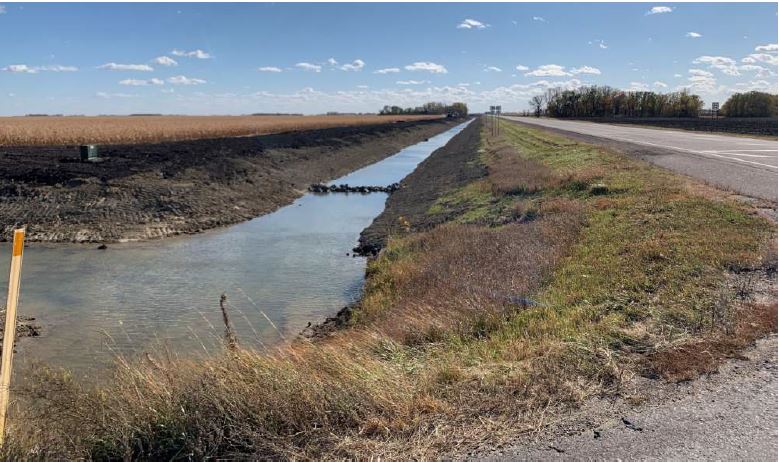 2019: The Improvement of Wilkin County Ditches #9 & #10
One such project, led locally by landowners in the Wilkin County Ditches #9 & #10 districts, modernizes an outdated drainage system. Drainage systems are vital infrastructure because they protect our public roads, highways, bridges, towns, family farms, and even the land itself – removing excess water is important for soil health. Furthermore, existing public drainage systems under the authority of the Bois de Sioux Watershed District are being evaluated for updates that include strategic culvert sizing, floodplain restoration, side-inlet culverts and other erosion and flood mitigation features. This project incorporates all of these features, resulting in cleaner water and reduced flooding. No substantial work has been done to Wilkin County Ditches #9 & #10 since 1910.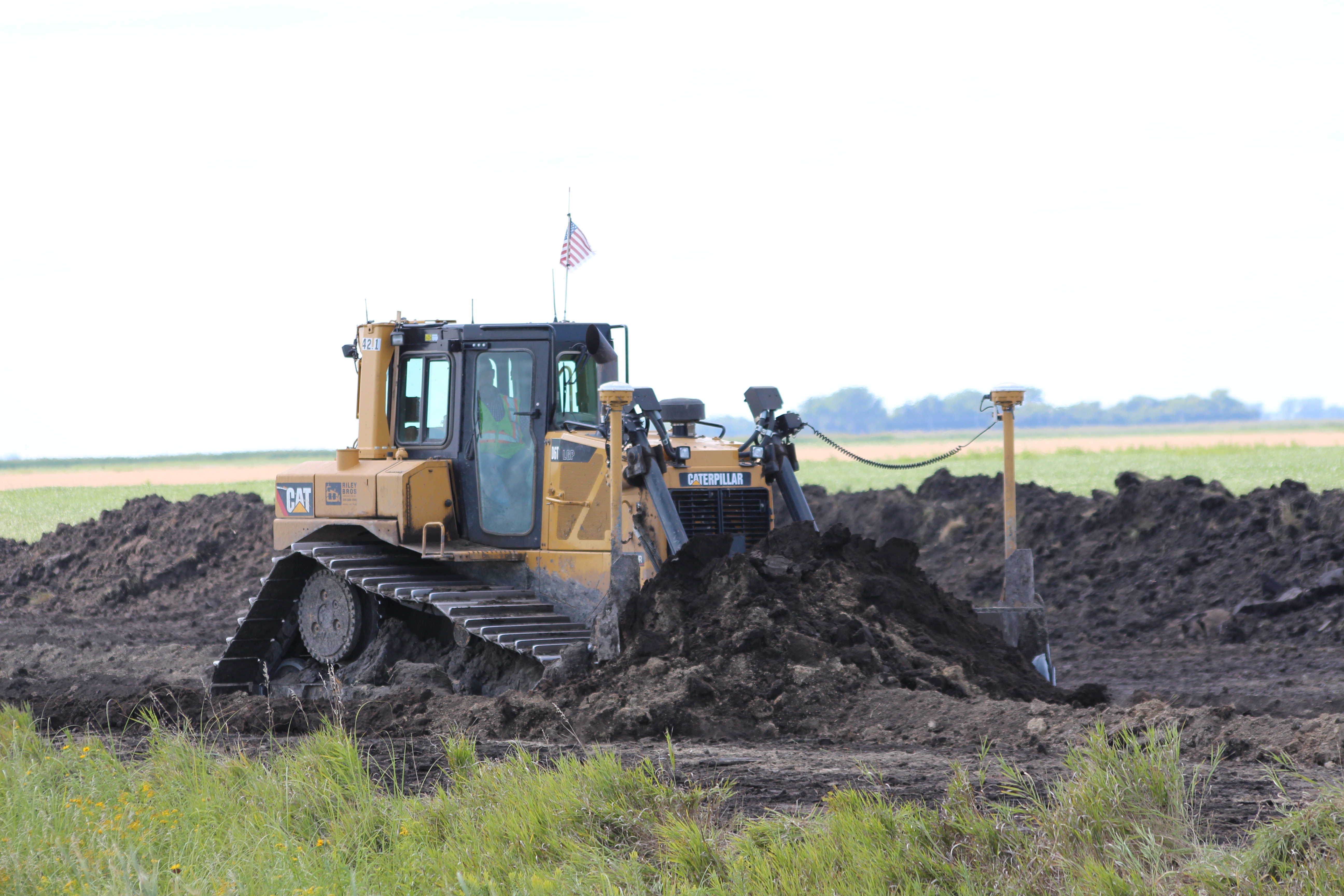 As stated in the Detailed Survey Report prepared by Moore Engineering, the current systems suffer from:
• Uncontrolled flows into the drainage system that cause excessive erosion and sediment transport
• Improper culvert sizing that causes unnecessary flooding and downstream impacts
• Excessive spoil bank heights that force floodwaters over a major highway, posing safety hazard
• High velocity areas that promote channel erosion
The proposed project is estimated to cost landowners approximately $2.0 million. "When designed correctly, these projects control water flow and improve water quality" says Bois de Sioux Watershed District Engineer Chad Engels.
Engels believes there is a serious public misconception that agricultural drains cause floods. Engels continues, "The design goal for public drainage system improvements is more complex. The idea is to provide the capacity needed to convey the smaller more frequent summer rainfall events in a manner that results in minimal crop loss. However, larger flows, like those resulting from spring snow melts or heavy summer rain storms, are actually controlled by the project if designed correctly. The secret to the design is to size channels and culverts just large enough to pass the smaller flows. When flows exceed the design flow, excess water is pushed out of the channel and is directed into floodplain storage in adjacent fields. Culvert are used to meter the flow. The most benefit is seen when existing oversized bridges are replaced with smaller culverts."
In response to the anticipated water quality benefits that this project will provide, the Board of Soil and Water Resources provided a $60,000 Clean Water Multi-Purpose Management Grant in coordination with the Wilkin County Soil and Water Conservation District.

Traverse County's First Ditch Retrofit: Project eases flood damage as it improves water quality within the Bois de Sioux Watershed District, setting the stage for similar work
Check-out this press release on Traverse County Ditch #37.