Redpath Project
Description/Location: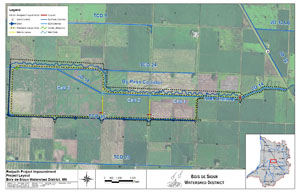 This Redpath Impoundment site is located alongside a reach of the channelized Mustinka River (JD14). It will be an off-channel storage site designed to take high water off JD14. The project is in the design engineering stage. Site development will require 2,100 acres. It will include approximately 9 miles of dike; spillway connections to and from JD14; and 7 miles of river corridor reconstruction. A diversion channel could also be included that would bring a 16 square mile drainage area into the impoundment from the southeast to provide local flood relief to agricultural lands, roads and bridges.
This spring, testimony was given twice at the capitol, in an effort to secure project funding. Here are details of what is needed.
Project Benefits:
Flood Damage Reduction (Primary Objective): Provide about 16,000 acre feet of flood control storage of which 13,000 acre feet will be gate controlled . This is expected to reduce damages to agricultural lands, roads, and bridges downstream along the Mustinka River,Twelvemile Creek and numerous legal ditch systems. This project will also help to minimize cross-over flows from the Mustinka Watershed to the Rabbit River Watershed and provide benefits on the Bois de Sioux River and Red River.
Downstream Flow Augmentation: Release of water following periods of high flow will help to sustain flows on the river.
Water Quality: This project is located along a reach of the Mustinka River that is listed as an impaired water for turbidity. The project will reduce erosion and will allow suspended solids to settle out thereby reducing turbidity.
Habitat Enhancement: Wetland areas totaling about 620 acres will be managed to provide spawning habitat for Northern Pike, feeding and resting areas for migrating shorebirds and waterfowl, and 300 acres of stream corridor restoration.
Problem Description:
Flooding: Local – farmland and structures (houses, grain storage, machinery storage) flooded almost annually in spring, road washouts and other infrastructure damages; Regional – Lake Traverse, Bois de Sioux River and Red River
Erosion/sedimentation: Streambank, gully, and sheet erosion, streambed sedimentation.
Habitat Opportunity: Managed wildlife site that will serve as complementary habitat to the North Ottawa Impoundment.
Partners:
State of Minnesota
Bois de Sioux Watershed District
Judicial Ditch #14
Red Path Printables: