Details about Big Lake
Description/Location: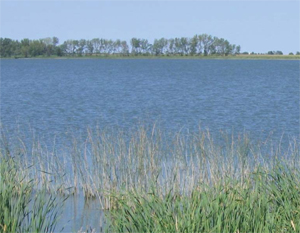 Big Lake is located 1 mile northeast of the City of Herman in Grant County. The project includes an improvement of the existing outlet leading from Big Lake to the City of Herman which will allow better control of both water levels and outfl ows. Under normal spring operations, the project will have 1,650 acre feet of fl ood storage of which 1,300 acre feet is gated. The existing lake provides 550 acre feet of storage, all of which is ungated. This improvement will provide better fl ood damage reduction and protection for the City of Herman, GCD #8, and other downstream drains.
Problem Description:
Flooding: Local – City of Herman, GCD #8, Five Mile Creek, farmland, farmsteads, and road washouts all occur frequently with the most serious fl ooding occurring in the spring; Regional – Lake Traverse, Bois de Sioux River, Red River of the North.
Natural Resources: Poor water quality, poor wildlife habitat due to loss of submergent and emergent vegetation & lack of management alternatives.
Project Benefits:
Flood Damage Reduction (Primary Objective): Provides 1,650 acre feet of fl ood storage, 1,300 of which is gated. Project Stores 3.0 inches of runoff.
Water Quality: By having the ability to manipulate water levels, this basin can be managed for the establishment of submergent and emergent vegetation growth by controlling the rough fi sh populations and improving water clarity.
Habitat Enhancement: By encouraging aquatic plant growth (shallow lake management operation), the basin will be attractive to waterfowl, shorebird and other species.

Partners:

5 Mile Creek PT
Bois de Sioux Watershed District

.